Advisory Board on
Domestic Terrorism & White Supremacy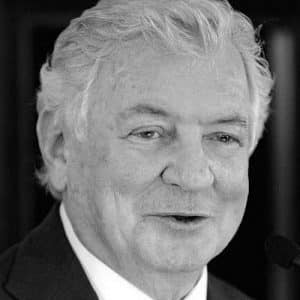 Jack Rosen is Chief Executive of Rosen Partners, President of the American Jewish Congress and Chairman of the American Council for World Jewry. His wide array of business interests includes ventures operating throughout the United States, Europe and Asia in Real Estate, Healthcare and Telecommunications.
Rosen is very active in government and political affairs. He is a long-time friend of President Biden, President Clinton, and President Bush. He was appointed by President Clinton and President Bush as a Delegate to the United States Holocaust Memorial Council, to the Organization of the American States and to the OSCE Conference on Anti-Semitism. He has been on numerous Congressional Missions.
He was a professor at Peking University where he lectured in the Master of Business Administration graduate program. He previously served on the Board of Governors at Hebrew University.
The Honorable Denver Riggleman (R-VA), Co-Chair
Denver Riggleman is a Republican politician who represented Virginia's 5th congressional district. Riggleman has a bachelor's degree in foreign affairs from the University of Virginia, an associate degree from Burlington County College and an AAS in avionics systems from the Community College of the Air Force. From 1992 to 1996, he served in the Air Force as a C-141 Starlifter avionics technician at McGuire Air Force Base, New Jersey.
After graduating from UVA in 1998, he served as a commissioned officer with the 366th Fighter Wing and 34th Bomb Squadron at Mountain Home Air Force Base, Idaho. Riggleman and his wife also built, own and operate the Silverback Distillery in Afton, Va.
The Honorable Max Rose (D-NY)
Max Rose is an American military officer and politician who served as a United States Congressman from New York and as senior advisor to the United States Secretary of Defense for COVID-19 until July 2021.
From 2012 to 2013, Rose served in the U.S. Army as a platoon leader in combat in the War in Afghanistan. He was wounded while on duty, and was awarded a Bronze Star and a Purple Heart. Rose continues to serve as captain in the National Guard.
Rose holds a bachelor's degree in history from Wesleyan University, and a master's degree in philosophy and public policy from the London School of Economics. He also attended the University of Oxford.
Ambassador Mitchell B. Reiss
Ambassador Mitchell B. Reiss is an American diplomat, academic, and business leader who is currently an international consultant on business turnarounds, geopolitical risk, and cultural and historic sites.
He has previously served as President and CEO of The Colonial Williamsburg Foundation, President of Washington College and in the U.S. Department of State.  At Colonial Williamsburg (2014 to 2019), he was responsible for managing $1.1 Billion in assets, stewarding 100,000+ donors, and leading 1,900 employees and 1,000 volunteers.  He transformed the Foundation to generate profitable commercial operations for the first time in history, registered four straight years of record fundraising, reversed a seven-year decline in visitation, and recruited and retained the most diverse leadership team in the Foundation's history.  At Washington College (2010 to 2014), he internationalized the student body, raised SAT scores and lowered the discount rate, created an innovative three-year pathway to graduation to reduce student and family debt, balanced the budget for four straight years, and led efforts to position the college as the country's leading undergraduate institute for Environmental Studies and Science.
At the State Department, he was the Director of the Office of Policy Planning for Secretary Colin L. Powell (2003 to 2005), where he provided strategic recommendations, with special emphasis on U.S. policies towards Iraq, North Korea, China, Iran and the Arab-Israeli conflict.  He was concurrently appointed by President Bush to be Special Envoy for the Northern Ireland Peace Process with the rank of Ambassador (2003 to 2007), where he worked closely with Prime Minister Tony Blair and the Taoiseach Bertie Ahern to persuade the political parties representing Northern Ireland's two "traditions" to finally end the "Troubles" and restore local government.  He was cited for "exceptionally distinguished service" and awarded the State Department's Foreign Affairs Award for Public Service.  In 2016, he was asked by the UK Government to serve as its Representative on the Independent Reporting Commission to help end paramilitary activities in the North.
Reiss held a number of academic leadership positions at the College of William & Mary, where he was Diplomat-in-Residence, Vice Provost and Dean of International Affairs, and held teaching positions in both the School of Law and Department of Government.  Before William & Mary, he was the Assistant Executive Director of the Korean Peninsula Energy Development Organization (KEDO), which was a multinational organization designed to negotiate the end of North Korea's nuclear weapons program (1995 to 1999).  He helped build KEDO from scratch and was the organization's chief negotiator with North Korea, concluding numerous complex and diplomatically sensitive nuclear technology and construction agreements.  Reiss was also a Guest Scholar at the Woodrow Wilson International Center for Scholars (1992 to 1995), where he directed its Nonproliferation and Counterproliferation Projects.  He has practiced law at Covington & Burling (1989 to 1992) and was Special Assistant to the National Security Advisor as a White House Fellow (1988 to 1989).
Reiss has authored three books and contributed to 17 volumes on international and regional security issues.  He has published over 125 articles and reviews on global issues, trade, international security, higher education, American history, and arms control, and testified numerous times before the Senate and House of Representatives on U.S. foreign policy.  He has appeared frequently on national and international radio and television programs, and before academic, military, and civilian audiences in the U.S. and abroad.  He holds a D. Phil. from Oxford University, a J.D. from Columbia Law School, a Master's degree from the Fletcher School of Law & Diplomacy and a B.A. from Williams College.
Dr. Jerome Hauer is a senior advisor at Teneo Risk, a worldwide CEO Advisory Firm, and a visiting professor at Cranfield University/Defence Academy of the United Kingdom.He is also a senior Associate at the Johns Hopkins Bloomberg School of Public Health in Department of International Health.
Before joining Teneo Risk, Dr. Hauer served from January 2012 until December 2014 as the Commissioner of New York State Division of Homeland Security and Emergency Services and Director of the Office of Counterterrorism. He is on the Board of the World Association for Disaster and Emergency Medicine and an Associate Editor of the Journal of Special Operations Medicine.
Formerly, Dr. Hauer served as Chief Executive Officer of The Hauer Group from 2006 to 2011 and 2014 to present. Dr. Hauer served as Acting Assistant Secretary for the Office of Public Health Emergency Preparedness at HHS from June 2002 to November 2003 and as Director of the Office of Public Health Preparedness of HHS from May 2002 to June 2002. Dr. Hauer served as the first director of the New York City Mayor's Office of Emergency Management. He also served as the Director of Emergency Medical Services and Emergency Management as well as Director of the Department of Fire and Buildings for the State of Indiana.
While a graduate student at Johns Hopkins, Dr. Hauer developed the first technique for giving patients their own blood back lost from the mediastinum and chest following cardiac surgery. The technique was adopted by cardiac and trauma surgeons worldwide. He continued his work at Beth Israel Hospital in Boston focusing on reducing blood use in cardiac and trauma surgery, and understanding coagulopathies in these patients.
Dr. Hauer holds a Ph.D. from Cranfield University/Defence Academy of the United Kingdom. He received an M.H.S. in public health from Johns Hopkins University School of Hygiene and Public Health and a B.A. from New York University. Dr. Hauer was a captain in the United States Army Reserves Medical Services Corps.
Aaron David Miller is a senior fellow at the Carnegie Endowment for International Peace, focusing on U.S. foreign policy. He has written five books, including his most recent, The End of Greatness: Why America Can't Have (and Doesn't Want) Another Great President (Palgrave, 2014) and The Much Too Promised Land: America's Elusive Search for Arab-Israeli Peace (Bantam, 2008). He received his PhD in Middle East and U.S. diplomatic history from the University of Michigan in 1977.
Between 1978 and 2003, Miller served at the State Department as an historian, analyst, negotiator, and advisor to Republican and Democratic secretaries of state, where he helped formulate U.S. policy on the Middle East and the Arab-Israel peace process, most recently as the senior advisor for Arab-Israeli negotiations. He also served as the deputy special Middle East coordinator for Arab-Israeli negotiations, senior member of the State Department's policy planning staff, in the Bureau of Intelligence and Research, and in the office of the historian. He has received the department's Distinguished, Superior, and Meritorious Honor Awards.
Miller is a member of the  Council on Foreign Relations, and formerly served as resident scholar at the Georgetown Center for Strategic and International Studies. He has been a featured presenter at the World Economic Forum and leading U.S. universities. Between 2003 and 2006 he served as president of Seeds of Peace, a nonprofit organization dedicated to empowering young leaders from regions of conflict with the leadership skills required to advance reconciliation and coexistence. From 2006 to 2019, Miller was a public policy scholar; vice president for new initiatives, and director of the Middle East program at the Woodrow Wilson International Center for Scholars.
Miller is a global affairs analyst for CNN. His articles have appeared in the New York Times, Washington Post, Politico, Foreign Policy, USAToday, and CNN.com. He is a frequent commentator on NPR, BBC, and Sirius XM radio.
Tonio Burgos is the CEO of Tonio Burgos & Associates. With five decades of business, government, civic involvement and legislative affairs experience, Tonio Burgos brings unique insight and a comprehensive understanding of how to get results on behalf of clients.  As a top rated consulting and lobbying firm in the tristate region as well as Washington, DC and Puerto Rico, has successfully worked on a wide range of projects in both the public and private sector for over 32 years.
Tonio worked for Governor Mario Cuomo for 15 years, beginning with the Governor's service as Secretary of State in Governor Hugh Carey's administration in the mid 70's and continuing during Governor Mario Cuomo's tenure as Lieutenant Governor of the State.  In 1983, Governor Cuomo appointed Tonio as his Appointments Secretary, and in 1984, as the Director of Executive Services.  Tonio served as a Commissioner of the Port Authority of New York and New Jersey and as a Director of the Port Authority Trans-Hudson Corporation which oversees the PATH rail system.  In addition, Tonio served as a member of the Advisory Committee of the Lower Manhattan Economic Development Corporation Transportation Committee from 2002 to 2006 by appointment of New York Governor George Pataki.
In 2002, New Jersey Governor Jim McGreevey appointed Tonio as Vice Chairman of the New Jersey Economic Development Authority and as a member of the School Construction Corporation, Treasurer of the Camden Economic Recovery Board and a member of the Israel-NJ Trade Commission.
In 1995, President Bill Clinton appointed Tonio to the Presidential Advisory Council on HIV/AIDS, where he served until 2001.  He also served as a founding board member of GMHC, the Latino Commission on HIV/AIDS, as well as the board of the Victory Fund from 1996 to 2006.
Tonio has served in many capacities and received numerous honors from charitable organizations and educational institutions.  In 2017, he was honored at the Union Settlement Annual Spring Gala and Citizens Union honored him with their Gotham Greats Award. On May 28, 2015, Herbert H. Lehman College awarded Tonio an Honorary Doctor of Laws Degree.  He was also the 45th Anniversary Award Recipient of Hostos Community College in May 2013.  The Regional Plan Association in April 2011 presented Tonio its Lifetime Leadership Award, and in 2010, the New Jersey Alliance for Action presented him with its President's Eagle Award.
Tonio's present affiliations also includes Chairman of the National Parks of New York Harbor Conservancy.  He also serves as a Member of the Steering Committee of the Association for a Better New York (ABNY), the Board of Directors of the Robert F. Kennedy Center and Foundation as well as a member of the NYC Police Foundation Board of Trustees.
Tonio continues to serve as a member of the New York Latin Media Entertainment Commission, appointed by Mayor Michael Bloomberg and reappointed by Mayor Bill DeBlasio.   He has served for over three decades as a member of the Democratic National Committee (DNC), and is currently a member of its Executive Committee.